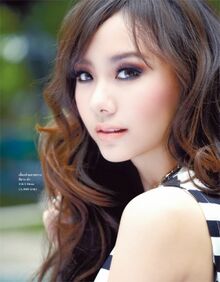 Nombre: จรินทร์พร จุนเกียรติ / Jarinporn Joonkiat
Apodo: เต้ย / Toey
Profesión: Actriz, modelo y presentadora
Fecha de Nacimiento: 29 de Enero, 1990
Lugar de Nacimiento: Tailandia
Signo Zodiacal: Acuario
Estatura: 160 cm
Peso: 40 kg
Educación: Estudiante de Teatro en la Universidad Srinakarintarawirote Prasarnmit.
Estado Civil: En una relacion con Alex Rendell.
Lakorn

The Cupid Series as Hunsa // Proximamente
Bunlang Dok Mai // Proximamente
Kleun Cheewit as Piyakul (Piak) // Proximamente
Hong Hoon as Amara // 2015
Ruk Tong Om as Mink // 2014
Dao Kiang Duen as Ingfah // 2014
Look Nee Tee Ruk as Omsin // 2013
Sarn Noom Nuer Tong as Lumpao // 2011/2012
Chocolate 5 Reudoo as Ticha // 2010/2011
Dok Ruk Rim Tang as Patcha // 2010
Ching Chang as Ganyaa // 2009
Ubatruk Karmkobfah 2 as Pern // 2009
Ubatruk Karmkobfah as Pern // 2008
Ad blocker interference detected!
Wikia is a free-to-use site that makes money from advertising. We have a modified experience for viewers using ad blockers

Wikia is not accessible if you've made further modifications. Remove the custom ad blocker rule(s) and the page will load as expected.