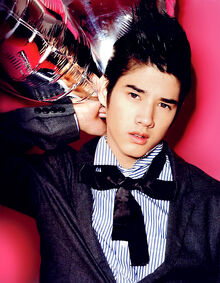 Nombre verdadero: ณัฐวุฒิ เมาเร่อ / Nuttavut Maurer
Apodo: โอ้ / Oh
Edad: 26
Profesión: Actor, modelo y cantante
Fecha de nacimiento: 04 de Diciembre, 1988
Lugar de nacimiento: Bangkok, Tailandia
Signo Zodiacal: Sagitario
Estatura: 180 cm
Peso: 60 kg
Grupo Sanguíneo: O
Grupo Musical:  Psycho y Lil'Mario
Educación:  Asistió a la Escuela St. Dominic School en Bangkok y actualmente esta estudiando Artes de la Comunicación en la Universidad de Ramkhamhaeng.
Lakorn

Nueng Dao Fah Diew // Proximamente
Bunlang Dok Mai // Proximamente
Song Huajai Nee Puea Tur as Thannatorn/Warong // 2015
The Rising Sun: Roy Ruk Hak Liam Tawan as Onizuka Takeshi // 2014
Madam Dun as Next // 2013
Ruk Kerd Nai Talad Sode as Tong // 2012
Plerng Toranong as Plerng // 2011
Tai Fah Tawan Diow as Minho // 2010
Ad blocker interference detected!
Wikia is a free-to-use site that makes money from advertising. We have a modified experience for viewers using ad blockers

Wikia is not accessible if you've made further modifications. Remove the custom ad blocker rule(s) and the page will load as expected.